Anti-Pollen/Anti-Allergic Screen
The polyester multifilament warp knitting mosquito gauze, woven stability optimal mesh size make the smallest,
in order to prevent the entry of smaller insects. Moreover, a special coating is used to prevent the surface of pollen and dust from the surface of the fiber.
Product description:
Material: polyester multifilament
Number: 18x56 (1.4x0.45mm mesh)
Transmittance: 40%
Pollen blocking rate: 87% (birch pollen)
Weaving: warp knitting
Coating: nano dispersion, can penetrate into the fabric and the adhesion between the fibers, to prevent the pollen to the fiber. Can stop the birch pollen 87%.

Color: Black, Grey.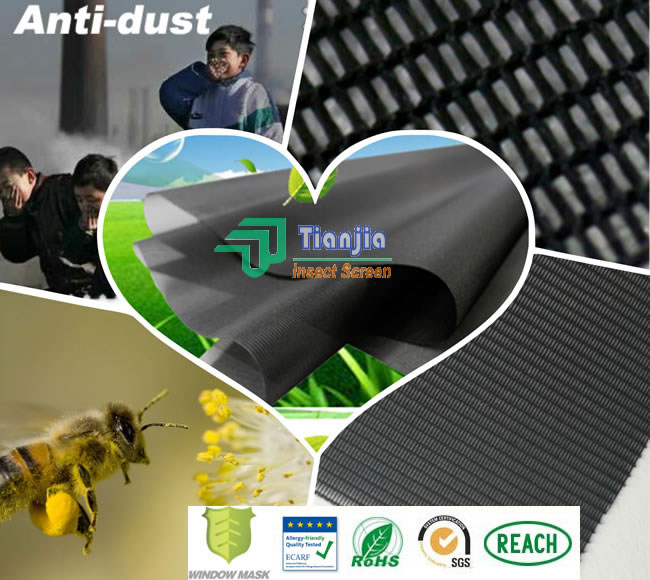 | | | | |
| --- | --- | --- | --- |
| Property | Value | Tolerance | Unit |
| Weight: | 105 | ±5% | g/M2 |
| Mesh: | 18 x 56 | | Ends/inch |
| Thickness | 0.29 | ±10% | mm |
| Tear Strength, Width | 828 | ±10% | N/5cm |
| Tear Strength, Length | 231 | ±10% | N/5cm |
| Elongation, Width | 25.0 | ±10% | N/5cm |
| Elongation, Length | 39.7 | ±10% | N/5cm |