Aluminum Framed Retractable Pet Screen Door Curtains

The window and door curtains used against insects and pet's claws in architecture demand a range of screens in aluminum, fiberglass, nylon, galvanized steel. The curtains screen is a light and affordable mesh that can be cut with scissors and fitted around your window frames. It allows air and light to come through whilst keeping out any unwanted little beasties.

Popular types:
Aluminum Framed Retractable Door Curtains

Materail: Aluminium / Nylon / Fibergalss
Custom Size: 100x220cm / 100x230cm / other sizes
Max Size:300cmx300cm
Color:White / Brown / Black / Ivory / other sizes you want
Key Features:
DIY design, can cut in different sizes;
Easy to install and remove;
Retractable vertical spring loaded insect screen and pet screen system;
Speed reducer is available for option;
Delicate and pretty design;
Available to all your existing windows;
Wind-resistance brushes secure the protection against insects;
All the accessories can be individually supplied.
Packing: Color boxes package or White boxex with color labels, and then shrinking or as per your requests.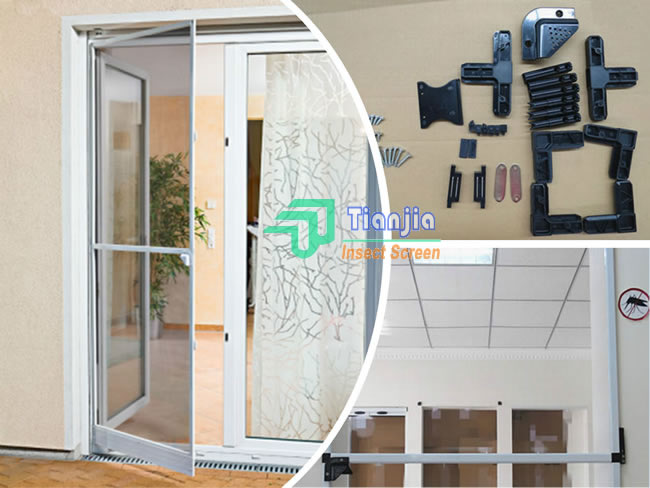 Retractable pet screen system 4028 is the most versatile and comply with all current proposed European Community regulations with the European Directives 89/106/EEC the Construction Products Directive with the Standard(s) EN 13561 : 2004.
Features:
* Vertical Retracting insect screen system.
* Spring loaded.
* Front fixing.
* Ease Do-It-Yourself assembling and installing.
* New latch system for effortless operation and the best experiment you never have.
* Wind-resistance brush secure the protection against insects.
Maximum size: - Width 100cm.
- Height 160cm.
Material of frame: Aluminium alloy.
Mesh material: Fiberglass.
Mesh colour: Grey or black(charcoal).

Specifications:
Housing size: 35mm x 40mm.
Guide size: 28mm x 19mm.