Fiberglass Insect Screen
Fiberglass insect screen is the substitute mosquito net screening for metal insect screen with its unique properties. Window screen and door screening made of fiber glass yarn are processed with vinyl plastic-coating, plain weaving, and high temperature-fixing. This kind of insect screen offers good ventilation, good transparency, easy washing, anti corrosion, resistance to burn, strong-tensile force, long service life and other properties.

Fiberglass mesh screening enjoys graceful and generous appearance, suitable for all sorts of airy in salvation and preventing insect and mosquito. It's widely used in construction, orchard, ranch as screening, fences or enclosure materials. Light type fiberglass mesh screen is mainly used in houses against mosquito and bugs. The heavy type fiberglass screen is used against pets.

Fiberglass screen is fireproofing, easy cleaning and flexible, also light weight and the fiberglass fabric has high tensile strength. This features makes fiberglass insect screen an ideal material used in industrial and agricultural building to prevent from fly, mosquito and small insect etc.

It is widely used for air exchange and insect proofing in buildings, fields, gardens, vegetable sheds and other structures.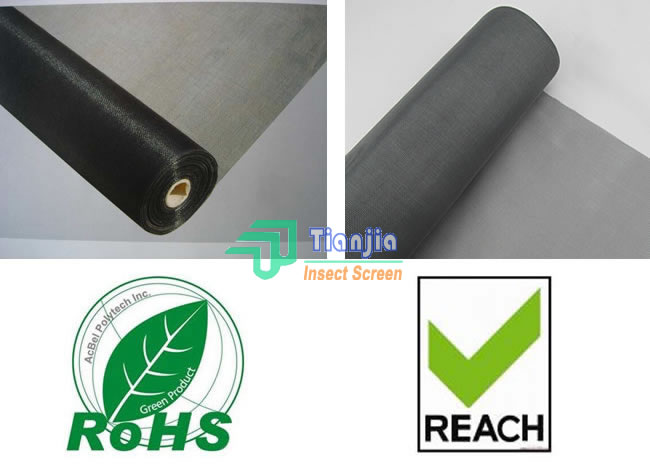 Technical Information:
Composition: vinyl coated fiberglass
Yarn Diameter (inch): .011
Standard Mesh Count: 18x16
Fabric Thickness (inch): .0125
Openness (%): 59
Light Transmission: 69%
Burst Strength (psi): 92
Size:
Roll Widths: 18", 24", 30", 36", 42", 48", 54", 60", 72", 84", 96"
Roll Lengths: 100', 300', 600'
Colors: Black, Grey, White, Brown, Green, etc.
Packing: 1 roll/carton box, or as per customers' requirements